Nd: YVO4 (Neodymium-gedopeerd Yttrium Vanadaat) -kristal is een van de meest veelbelovende commercieel verkrijgbare diode-gepompte solid-state lasermateriaal, Neodymium-gedoteerde Yttrium-vanadaatlaserkristal Nd: YVO4 combineert met lagere laserdrempel, hogere hellingsefficiëntie, grote gestimuleerde emissiedwarsdoorsnede , Optisch uniaxiaal en grote dubbele breking zenden sterk gepolariseerde laser uit, NdYVO4 lineair gepolariseerd lichtuitvoer, eenvoudige afstemming voor enkele modus en hoge tolerantie voor pompgolflengte. Vergeleken Nd: YAG-laserkristal, 5 keer grotere absorptiecoëfficiënt in een bredere band gecentreerd bij 807 nm en gunstige mechanische eigenschappen maken Nd: YVO4 goed geschikt voor compacte, efficiënte diodepompende lasers met hoog vermogen.
De natuurlijke dubbele breking van Nd: YVO4-kristallen geeft aanleiding tot een sterk gepolariseerde uitvoer bij 1064 nm, 1342 nm en 914 nm. Nd: YVO4 Laser Crystal heeft wijdverspreide toepassingen van lasersystemen, inclusief verspanen, materiaalverwerking, spectroscopie, waferinspectie, lichtschermen, medische diagnostiek, laserprinten, enz.
Nd: YVO4 is geschikt voor laserdiodenpompen onder de huidige in de handel verkrijgbare laserkristallen, in het bijzonder voor lage tot middelmatige laservermogensdichtheid. Gepompt door middel van laserdiodes is Nd: YVO4-kristal opgenomen met hoge NLO-coëfficiëntkristallen (LBO-kristallen, BBO-kristallen of KTP-kristallen) om de uitvoer van het nabij-infrarood naar groen, blauw of zelfs UV te verschuiven.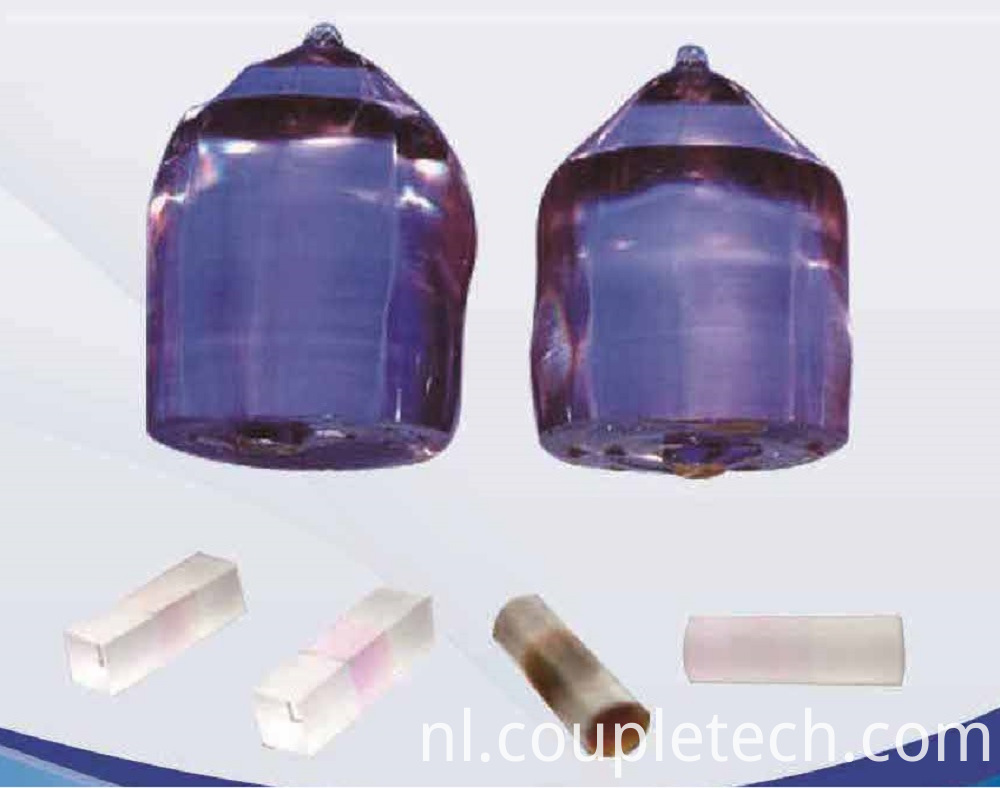 Product Categorie : Optisch kristal > Laser Crystal