Niet-lineair Optisch Kristal Kalium Titanylfosfaat (KTiOPO4 of KTP) kristal is een van de meest efficiënte niet-lineaire optische kristallen en is gebruikt bij frequentieverdubbeling van IR-lasers en OPO tot mid-IR spectraalgebied, en het heeft veel uitstekende eigenschappen zoals hoge niet-lineaire optische coëfficiënt, hoge thermische geleidbaarheid, dus het is niet gevoelig voor de temperatuurverandering. KTP wordt veel gebruikt in SHG-, OPO- en OPA-toepassingen.
KTP OPO-component: KTP-kristallen worden geplaatst in een oscillatieholte die bestaat uit twee spiegels of lens, of alleen op een stuk KTP-kristal zijn beklede HR-coatings zonder spiegels en lens. Coupletech biedt een breed KTP OPO-bereik van zichtbaar tot mid-IR voor parametrische bronnen voor afstembare uitgangen, met name siginal light 1572nm. Coupletech produceert hoogwaardige KTP-kristallen met één domein en componenten voor OPO, OPA, SHG, SFG & DFG-toepassingen, evenals substraten voor optische golfgeleiders en EO-modulators. Coupletech heeft strikte kwaliteitscontrole en biedt kwantumkorting voor alle soorten optische kristallen, dwz Nd: YAG-kristallen, Nd: YVO4-kristallen, Cr: YAG-kristallen, Diffusion Bonded Crystals, KTP-kristallen, BBO-kristallen, LBO-kristallen, BIBO-kristallen, KTA-kristallen , LN Crystals.
Specificaties die we kunnen bereiken zijn als volgt:
Oriëntatie: <0.2 deg, vlakheid: <lambda / 10 op 632.8nm, Wavefront-vervorming: <lambda / 10 op 632.8nm, parallelliteit: 10 sec, loodrechtheid: 5 arc min, oppervlaktekwaliteit: 10-5, schadedrempel: 450 MW / cm2 10n's 10Hz 1064nm, garantie: een jaar
KTP-10106 is de maat 10 x 10 x 6 mm S1: AR-coatings bij 1064 en 532 nm, S2: AR-coatings bij 1064 en 532 nm
KTP-050520-03 is de Sx: AR-coating van 5 x 5 x 20 mm op 1064 nm & 1572 nm; S2: AR-coatings bij 1064 nm & 1572 nm
KTP-050520-01 is de afmeting 5 x 5 x 20 mm S1: HR bij 1572 nm, HT bij 1064 nm + 3300 nm; S2: PR (R = 55%) bij 1572 nm, HT bij 1064 nm & 3300 nm.
KTP-050520-02 is de afmeting 5 x 5 x 20 mm S1: HR bij 1572 nm, HT bij 1064 nm & 3300 nm; S2: HR bij 1064 nm, PR (R = 55%) bij 1572 nm, HT @ 3300 nm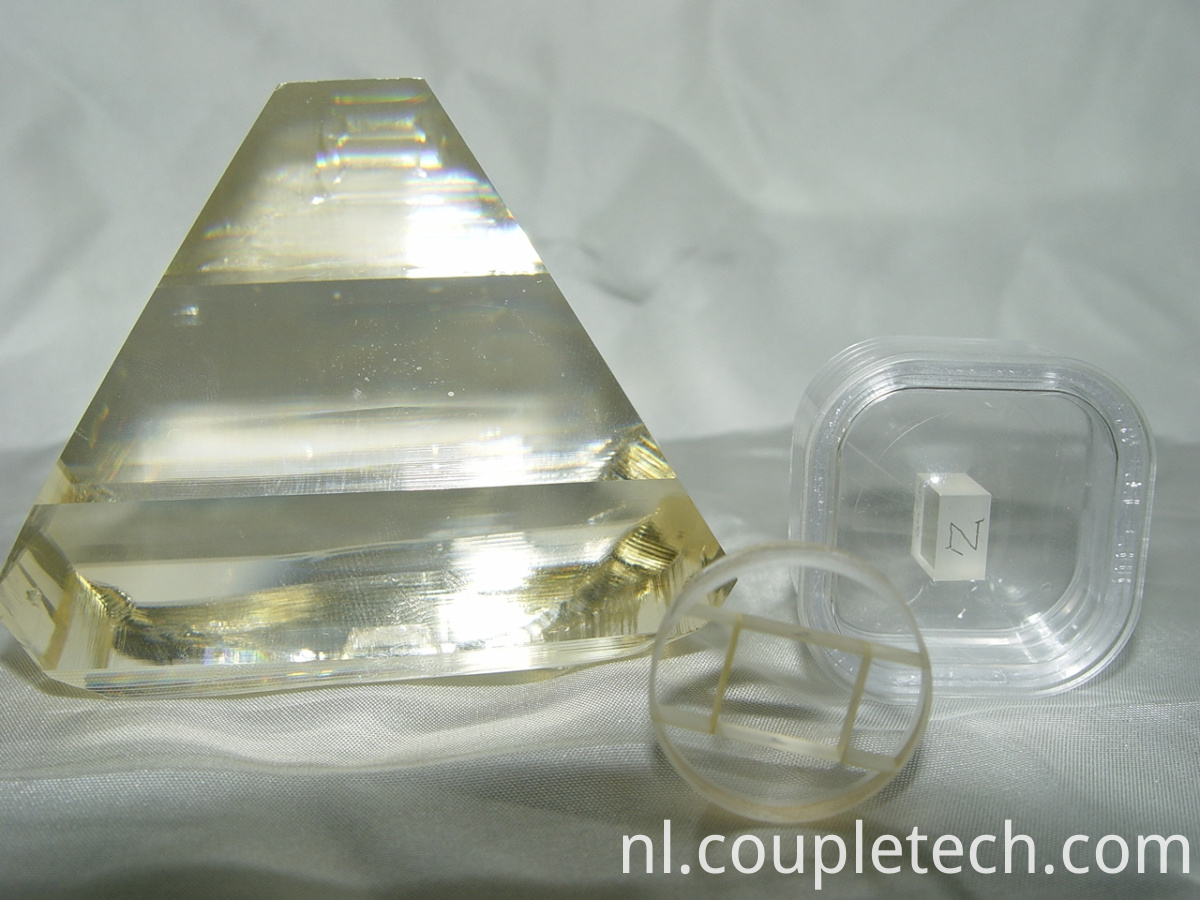 Product Categorie : Optisch kristal > Niet-lineair optisch kristal