Als een soort optisch element is Sapphire een eenkristalvorm van Al2O3, met een gunstige combinatie van chemische, mechanische en optische eigenschappen.
Saffierglas is bestand tegen aanvallen door sterke zuren, waardoor het in een corrosieve atmosfeer kan worden gebruikt. Het is bestand tegen krassen en slijtage met een zeer hoge Knoop-hardheid van 1800 parallel aan de optische as (C-as), 2200 loodrecht op de optische as.
Ongecoate saffier optische ramen zijn ideaal voor zware omstandigheden, inclusief omgevingen die onderhevig zijn aan hoge temperaturen, hoge drukken, sterk vacuüm of corrosieve omgevingen.
Sapphire heeft een hoge druksterkte en is bestand tegen aanvallen van sterk zuur.
Coupletech biedt Sapphire Al2O3 is een van de moeilijkste materialen en beschikt over een zeer goede transmissie tijdens het bereik van zichtbaar en nabij IR-spectrum.
Voordeel van Sapphire zoals hieronder:
Ideaal voor hoge temperaturen, hoge druk of sterke vacuümomgevingen;
Zeer corrosiebestendig;
T varieert van 170 nm tot 5,5 μm;
Extreem hard en duurzamer dan standaard optisch glas.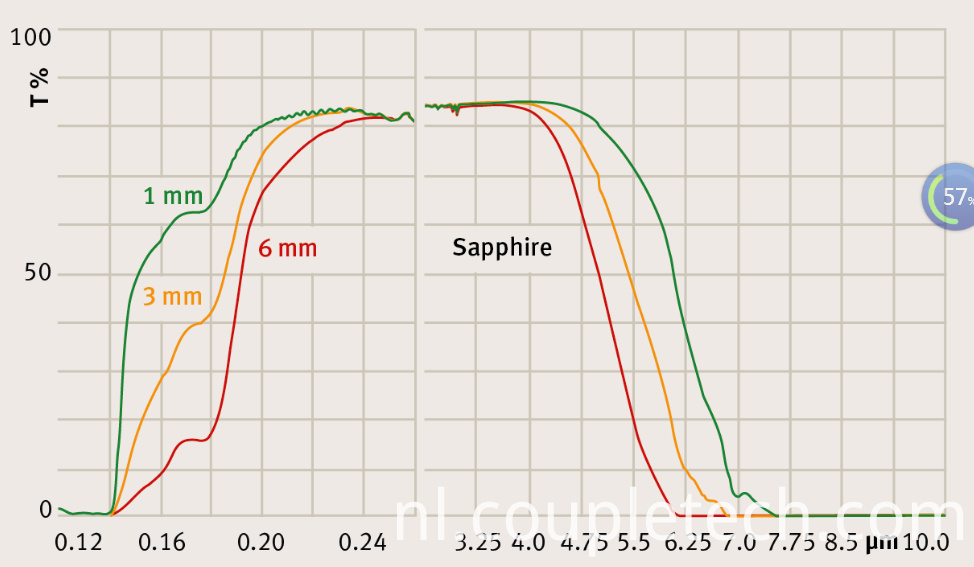 Al2O3 wordt veel gebruikt als optisch venster in infrarode en ver-infrarode militaire uitrusting, apparaten en instrumenten van satelliet- en ruimtetechnologie, en navigatie en ruimtevaart, zoals nacht-infrarood scope / zicht en nachtzichtcamera, enz. De saffiervensters worden intensief toegepast in hoogtechnologische velden.
Coupletech biedt ook andere soorten optische elementen, zoals: optische lenzen, optische filters, straalsplitser, optische spiegels en optisch prisma.

Product Categorie : Lasercomponent > Optisch element