Genoemd naar zijn uitvinder Harting Dove, optische prisma's van Dove (met antireflectie coatings aan de uiteinden) volledig omkeren een afbeelding met 180 graden.
Als het Dove-prisma rond zijn as wordt geroteerd, roteert het beeld met tweemaal de rotatiesnelheid van het prisma.
Dove-prisma's (UV-gesmolten silicium of BK7) bieden een handige en precieze methode om een ​​balk te roteren. Het lange lengte- en vierkante profiel maakt ze eenvoudig te monteren in een cilindrische huls.
Als een soort optische elementen moeten duifprisma's worden gebruikt met gecollimeerde of bijna gecollimeerde bundels vanwege het zeer beperkte gezichtsveld. Bij gebruik als een beeldomkerende prisma fungeert het gezicht van de poten als een TIR-oppervlak en is daarom normaal niet gecoat. Daarom is dit optische prisma belangrijk om dit oppervlak schoon te houden.
Duifprisma's hebben een ongebruikelijke en zeer interessante eigenschap - als je door het prisma kijkt en het rond een lengteas draait, roteert het beeld tweemaal door de hoek waardoor het duifprisma zelf roteert. Gebruik bij duale prisma's met gecollimeerd licht voor een optimale werking. Dove Prism is geslepen en de langste lengte (gespecificeerd door dimensie B) heeft een ongeëvenaarde scherpe rand.
Dove Prisms worden ongecoat aangeboden, met anti-reflectie gecoate diagonale vlakken, of met gealuminiseerde diagonale vlakken. Gealuminiseerde duifprisma's hebben een beschermde aluminium coating met zwarte Krylon-verf op de diagonale zijden en zijn ideaal voor verplaatste retroreflectie. Ze bieden een u-bocht voor invallend laserstraallicht.
Reflectie wordt 49 mm verschoven (in 15 mm maten) of 75 mm (in 25 mm maten) wanneer invallende stralen gecentreerd zijn op het diagonale vlak. Gealuminiseerde duifprisma's kunnen worden gebruikt in afbeeldingssystemen (met gezichtsveld minder dan dimensie A / dimensie C) om gebieden achter de camera of rond hoeken te bekijken. Ze kunnen ook een gesplitst beeld geven, waarbij de ene scène ten opzichte van de andere wordt verplaatst.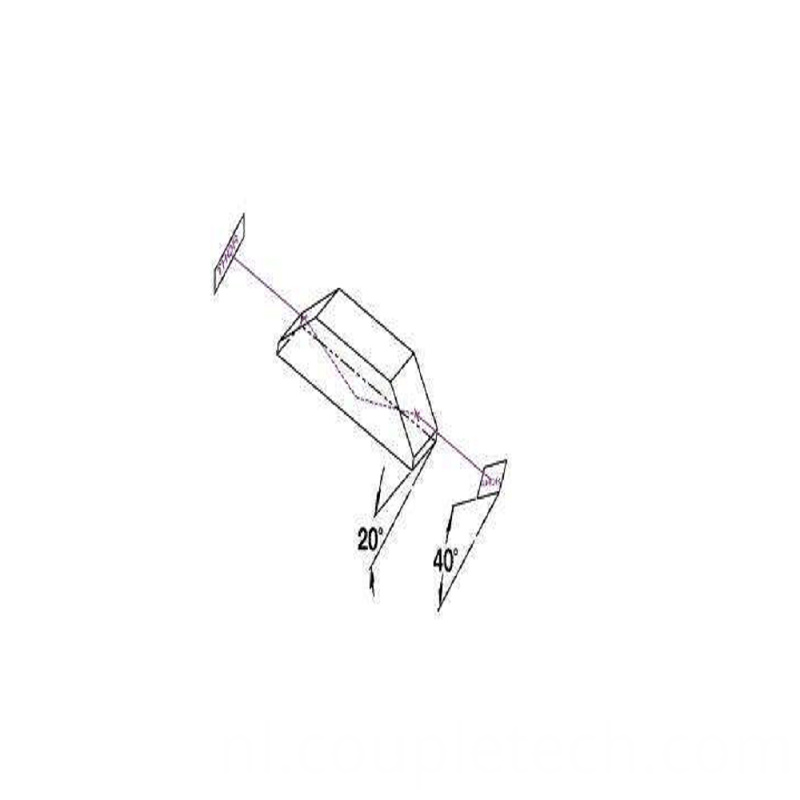 Coupletech biedt ook DP-dove-prisma's AR gecoat op de hypotenusa voor gebruik in beam-folding-toepassingen.
Omdat de zijden van de Sl en S2 op een totale interne reflectie (TIR) worden gebruikt , is het uiterst belangrijk om deze twee oppervlakken schoon te houden.
Zorg ook voor andere optische elementen zoals: optische lenzen, optische filters, beamsplitter en optische vensters.
Product Categorie : Lasercomponent > Optisch element