Fresnel Rhomb Prism (BK7 of Fused Silica) wordt gebruikt om het trillingsvlak van lineair gepolariseerd licht te roteren.
Het bestaat uit twee optisch gecontacteerde Fresnel-parallellepipedums van kroonglas BK 7 of kwartsglas Suprasil die door totale interne reflectie samen een padverschil van 180 ° creëren tussen de componenten van licht gepolariseerd loodrecht en evenwijdig aan het invalsvlak.
Als een soort optisch element gebruiken de Fresnel-prisma's en -ruiten die op deze pagina worden beschreven het principe dat wanneer licht totale interne reflectie ondergaat, er een relatieve faseverandering is tussen de s- en p-polarisatiecomponenten.
Dit effect is slechts zwak afhankelijk van de golflengte (figuur 1). Deze componenten zijn dus ideaal voor mensen die werken op meerdere verschillende golflengten of met breedbandbronnen in het 8 tot 12 μm-gebied.
Het is vaak nodig om de polarisatie van de bron te wijzigen of te manipuleren.
Een reflectieve fasevertrager converteert bijvoorbeeld lineaire naar circulaire polarisatie en verbetert de lasersnijkwaliteit. (Zie Fase Retarders voor reflectieve fasevertragers.) De meeste polarisatie-veranderende apparaten - de reflecterende fasevertrager en de golfplaten - zijn echter zeer gevoelig voor golflengten en bieden alleen smalband- of enkelvoudige golflengtebediening.
Over een relatief breed bereik is de vertraging slechts minimaal afhankelijk van de golflengte, zie curve.
Deze polarisatierotator kan alleen worden gebruikt voor zeer kleine acceptatiehoeken.
De parallelliteitsfout van de prismacombinatie is minder dan 2 ".De eindvlakken worden loodrecht op de rotatieas aangepast De bruikbare opening is 9,5 mm.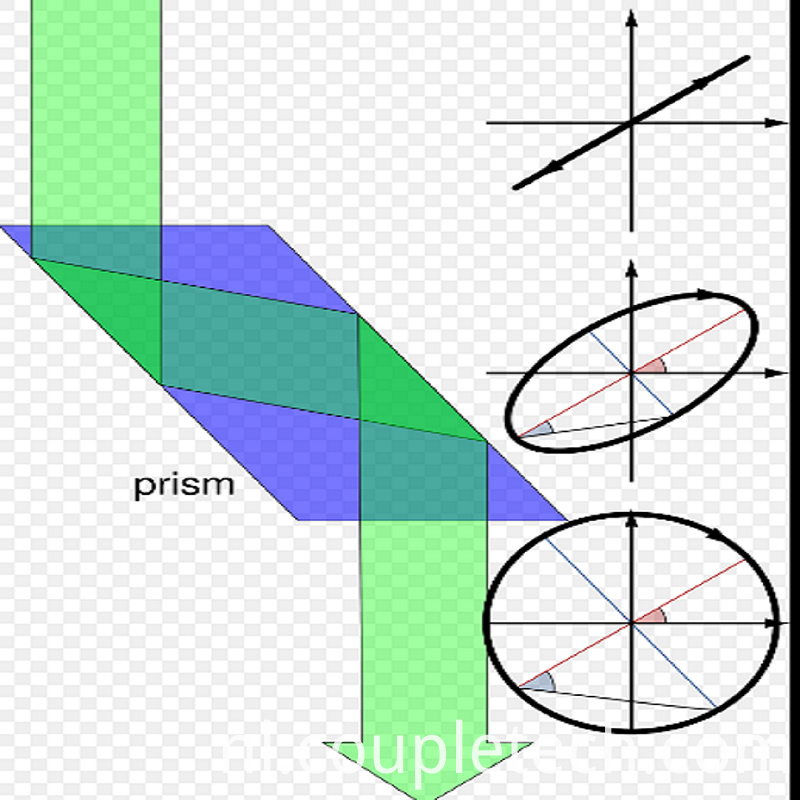 De houder is voorzien van een maatcirkel gemarkeerd van 0 ° tot 360 ° en wordt geleverd met een montagestaaf.
Het Fresnel Rhomb Prism is gemonteerd in gemakkelijk roteerbare kogellagers, zodat een motoraandrijving kan worden gemonteerd; de draaiende delen zijn echter niet gebalanceerd.
Coupletech biedt ook andere soorten optische elementen, zoals: optische lenzen, optische filters, straalsplitser, optische vensters, optische spiegels en optisch prisma.
Product Categorie : Lasercomponent > Optisch element